In seeing some early prototypes of the Ford Flex I thought it looked goofy. But when it was put into production and out on the streets I thought it could be a cool alternative to SUVs. It's not quite a station wagon, but not a giant monster truck. It's stylish and boxy, has tons of cargo room without having a super-high center of gravity. Pretty cool.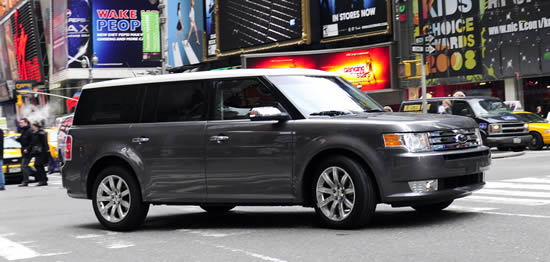 The NY Times wrote a favorable review but after looking at the specs I was turned off. This oversized Scion xB weighs in at 4,400-4,600 lbs and is (under)powered by a 262hp, 3.5 liter V6.
The base model is front-wheel drive. Hasn't Ford learned anything from the success of the Chrysler 300/ Dodge Charger? Build some cool RWD cars! Gas mileage for the 4WD version is 16city/22hwy. Embarrassing for a V6.
Oh, Flex, I had high hopes. But I should have figured Ford wouldn't be able to build a wagon that wasn't overweight and guzzled gas. It must be hard to break from the institutional addiction to SUVs. Good effort though.
Leave a comment