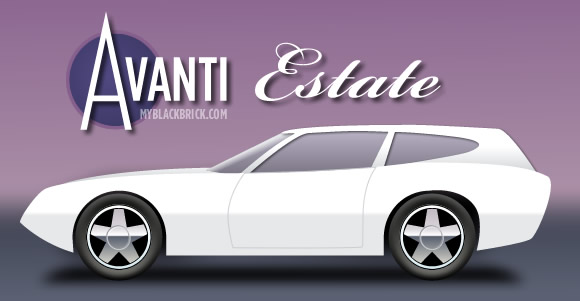 I'm trying my hand at car design for a contest at the Studebaker National Museum. They have an August 7 deadline for submissions for a Studebaker for the 21st century. My concept is for an Avanti Estate, essentially a shooting brake, with 2 doors and lots of cargo space in the rear. A sport coupe with room for golf bags and groceries. The side-profile above is a start, and I'm going to attempt a 3-D rendering using Google's Sketch-Up.

The other day I saw a group of 2002 T-Birds cruising the highway and realized how their design could be a model for how smaller cars can be made to appeal to US consumers. Too often Detroit models itself after the Japanese, as evidenced in the new Camry-clone Chevy Malibu, seen at left. I think the Malibu is a handsome car, much better than the previous version, but is it distinctly Chevy?
Eric Felten wrote a recent column in the WSJ about the lack of American style in American cars these days. He writes:

One could argue that there's a certain advantage to making bland and indistinguishable products when, like GM, you suffer from negative brand equity. And it certain is negative these days: Company executive Troy Clarke recently told the Washington Post about focus groups that had reacted positively to photos of the Chevy Malibu — that is, as long as the Chevy logo was obscured.
The other design route is to model cars off tanks and Humvees, with bulky, grotesque plastic trim, making many Dodge and Jeeps resemble armored bank vehicles. Now I'm waiting for the inevitable Detroit equivalent of the Honda Fit. But why not take a different tact and create something as cool as the T-Bird, add back seats, and sell it as a sleek, efficient American car. A Reliant K for a new generation.
4 comments on "A New Avanti"
Leave a comment