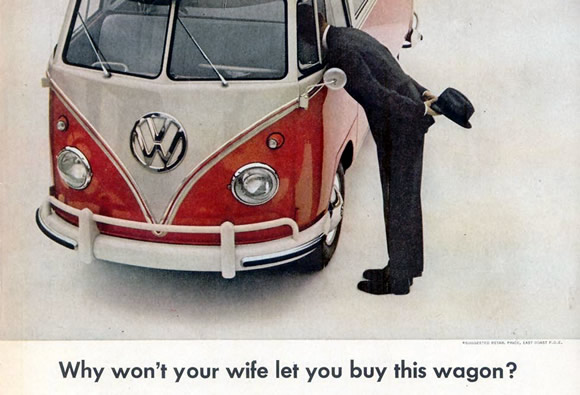 Sociological Images  unearths an old VW ad that features the 1950s manufactured conflict between man and wife over what car to buy with the husband's money.  Similar to the hen-pecked husband in this Volvo ad from the same era, the man in the photo above (who looks like he's about to be castrated beheaded) desires the car that's advertised. But his wife is reluctant, even hostile to the idea of driving it, so the husband must do the job of the car salesman in convincing his wife to allow him to buy the car he wants, even though he won't be driving it.
"It looks like a bus."

"I wouldn't be caught dead in it."

Do these sound familiar?  Your wife is not alone.  It is hard to convince some women what sense the VW Station Wagon makes.
Although the wife's assumed place in the family is taxi and delivery driver, the ad implies that since she's a woman she must be too dumb to understand the utility of a van. She only cares about how it looks.
According to the ad her duties include carting groceries, baby carriages, antique chests, tree saplings, Boy Scouts and camping supplies, all while enduring "bumper to bumper traffic on hot days." Can't she pick her own damn car? She'll be picking up hubby's dry-cleaning too, I'm sure. Dude, give your slave a break.
The kicker is the final statement, which, if there was any confusion, really puts the woman in her place:
"If these facts don't convince her, tell her it's only $2655 and you aren't made of money."
In other words, it's really not a mutual decision with the husband making a convincing argument. He's gonna buy her the cheap death-trap and she better get used to it.
Nowadays we know that car companies conduct focus groups with and conduct marketing campaigns for women specifically. In fact, Volvo recently created a concept car designed by and for women. "YCC", or "Your Concept Car" included such innovations as a redesigned headrest to accomodate pony-tails and interior decor that can be swapped out depending on the season. Oh, how far we've come.
2 comments on "Vintage VW for the Hausfrau"
kelly says


Wow. Somebody is sounding like a hostile, man hating lesbian and jumping to a lot of ridiculous conclusions about a simple ad for a quality vehicle.
She doesn't like how it looks. After that it would take some convincing regardless of one's sex.
And maybe when she hears the price she will realize it could mean they could afford a nice vacation for a change.
What, nobody has ever had to convince you of anything about which you were skeptical?
Oh that's right. You're a woman. You know everything.

DoctorJay says


Nah, I just wish they'd buy a station wagon.
Leave a comment