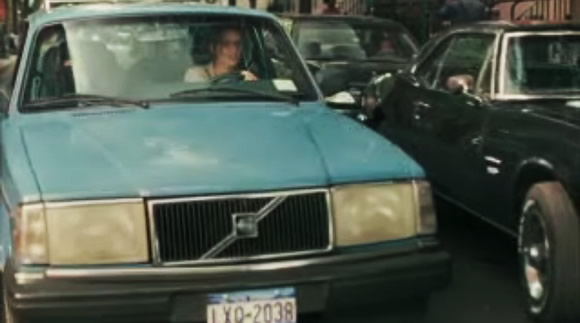 Apparently the movie "Motherhood" opened last October in theaters in the US, but it's making the news now because it only made about $115 on its opening weekend in the UK a few weeks ago. That includes the sale of ONE ticket on the Sunday of its premier.
From the trailer it looks like we have yet another case of a typecast blue beater brick. Uma Thurman is a mommy blogger (as is my wife) who lives in an inexpensive apartment in an expensive urban neighborhood (like my family) and the movie chronicles a day in her life where she prepares for her daughter's 6th birthday (like my daughter had on Thursday), deals with her hapless husband (played by my doppelganger Anthony Edwards), and struggles to find a space to park her brick (which I do on a regular basis).
According to the website there's a "battle for a parking space during an epic alternate side parking showdown." Don't know if it's with that hot rod Camaro in the frame grab above.
I found a couple weird photos of the car taken by the dog trainer. The first one shows Uma's puppy sitting in the passenger seat while the other has the film crew gathered around the car preparing to shoot a scene.
It sounds like the blue beater gets good screen time as the trailer shows it in the background in a bunch of shots. I'm guessing it's another symbolic stand in for the main character; a tough, grizzled veteran with a heart of gold. Considering the movies reception in London, however, I don't think I'll bother renting it to find out.
Leave a comment