Brick-a-Brack Cash for Clunkers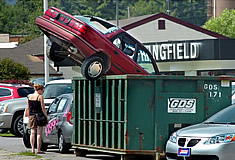 The concept for the government's "Cash for Clunkers" program was dumb to begin with. Now that it's actually been implemented it's turned into a fiasco of confusion, misinformation and waste.
The biggest disaster is the fact that it ran out of money only FOUR DAYS into the four month long program. Original budgeted for $1 billion dollar through November, it now may get another $2 billion dollars to fund the $4500 checks cut to dealers who accept car buyers junk.
I'm surprised it ran out of money considering the misinformation that's been pumped out by some dealers about the program. Take the funny promotion pictured above by a dealer in Springfield,VA. Since the Fed requires that eligible cars get less than 18mpg average city/highway there's no way that Toyota Corolla would qualify. I saw a TV commercial last night that showed an econobox POS that the voiceover stated could be turned to gold. Unless the dealer is planning on absorbing the discount when the DOT rejects the rebate application, buyers are being given a bait-and-switch. In addition the EPA adjusted its figures right before the program started, so the mileage listed on the original sticker may not match what the DOT sees as eligible.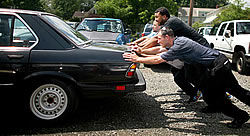 Once a car has been accepted, government rules require it be given a lethal injection of sodium silicate to disable and destroy the engine, then be scrapped. See that beautiful black beemer to the left? Scrap metal.
Leave a comment