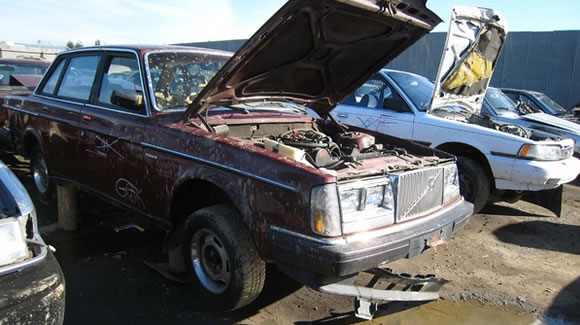 The pickings haven't been too bad at the Pick-n-Pull I frequent on the east coast. I've managed to find mint tail lamps, a clean grill and the holy grail of 240 parts; intact door pockets. Most of the junked 240s I see are over 20 years old, so I hope we still have a few more years of parts to pick.
Jalopnik has a theory for the proliferation of junked bricks on the west coast:
Berkeley and its nearby East Bay cities… have long been inhabited by legions of folks who swear the Volvo 200 series was the Best Car Ever Made… that is, until the Prius arrived. Once a bulletproof hybrid Toyota enters the stable, paying Sven the Volvo Mechanic $1,800 every six months to fix a car that gets 18 MPG no longer seems like the bargain it once was… and thus begins the long tow-truck ride to the junkyards of Oakland and Hayward.
Thus begins their tragic photo essay of 240s decaying in the California sun.
2 comments on "West Coast Brick Graveyard"
David says


Sad. But what is this east coast P&P you frequent? I live in NE Mass and so far haven't found one worth the trouble. There aren't that many 240s left around here that haven't turned into crumbly piles of rust.

Oh, found you by the brake-job video on fcp's website. Much simpler than I thought it'd be. I have a '91 244 5-spd in pretty good shape, but, you know…

admin says


The P&P is down in Northern VA. I'm in NJ, but my parents are in VA so I get there only a couple times a year. They usually have about 4-5 240s in various states of disrepair.
Leave a comment