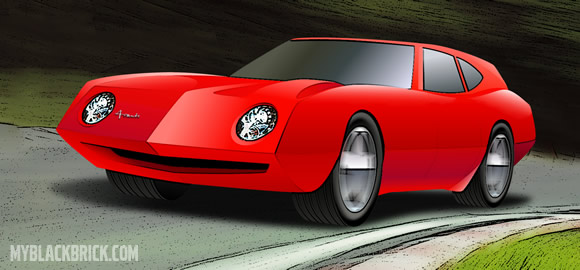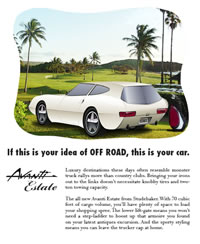 I finished rendering my Avanti Wagon and entered it into the Studebaker Design Museum show. I haven't done much 3D before but Google SketchUp was really simple to use. It didn't give me everything I wanted though, so I ended doing some vector drawing on top of the model to get it to look right. Not quite as cool as Top Gear's Porsche Shooting Brake but I'm happy with how it all turned out.
I wrote some marketing copy and created two ads for the 2-door Avanti Estate. The ads were loosely based on these illustrations posted on theavanti.com. I love the rough, vignetted edges on those marker drawings and the colorful rendering given to the backgrounds.
The ads are available as PDF files by clicking the small images, or here and here.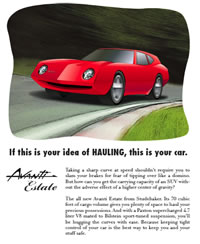 I'm ashamed to confess my previous ignorance of the Avanti's designer, Raymond Loewy. He was THE industrial designer of the mid-20th century. In addition to designing for Studebaker, he designed buses for Greyhound, logos for Nabisco, Shell and Exxon, and even the iconic bottles that distinguished Coca-Cola from other sodas through the end of the last century. His design for the exterior of Air Force One is still in use today.
While I was working on the renderings I discovered thatAvanti Motors still exists and creates a limited run of new cars out of Mexico and Canada. I don't think they're planning a wagon though.
CORRECTION: A reader informed me that Avanti ceased production in 2006. An interesting note from Wikipedia:
Michael Eugene Kelly, owner of Avanti Motors Corporation, was arrested by the FBI on Dec 22, 2006 in Florida. Kelly is suspected of running a $400 million Ponzi scheme from 1992–2004 and is in jail without bail facing mail fraud charges.
7 comments on "The New Avanti Estate Wagon"
Eric Hundin says


I found your blog on MSN Search. Nice writing. I will check back to read more.

Eric Hundin

Alden says


I like it! I was wondering if you do design work for a day job? Those ad's look rather nice :)

John Drake says


I believe your information regarding Avanti Motors still being in business is
incorrect. Avanti Motors ceased Avanti production in December 2006. I own one
of the last production cars built in Cancun.

DoctorJay says


Thanks. I posted a correction.

DoctorJay says


I don't do much print design, just interactive. You can see my portfolio here: http://jayboucher.com/design/

candbstudebakers says


what would look really good and go like a flash would be to take my 05 Dodge magnam RT wagon and install an Avanti front, with that hemi engine it would be one sweet car, would like to see some one that does these things with the computer do it thanks..Bob

My Black Brick » Archives » Gimme a Break (Brake)? says


[…] week in Beijing. Which raises a couple of questions: When does a station wagon turn into a "Brake"? And is it "Brake" or […]
Leave a comment