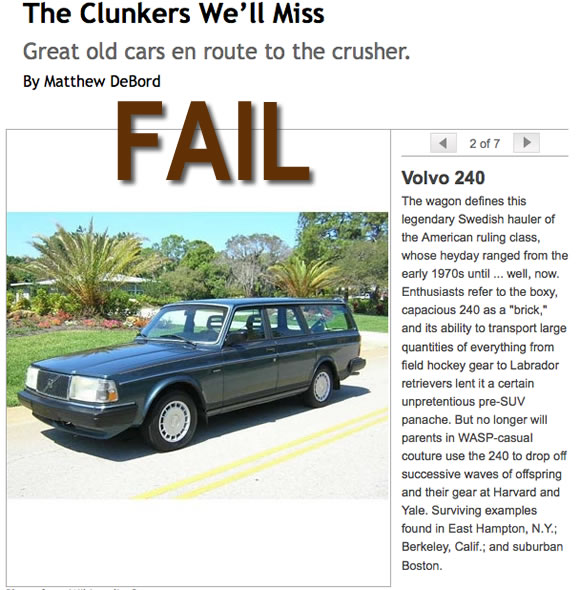 Slate's finance site "The Big Money" launched in fall of 2008, while I was working at Condé Nast's competing finance site Portfolio.com. Just because I got laid off in a round of firings at Halloween doesn't mean I harbor any ill-will towards "The Big Money". Two separate sites with two different agendas. OK.
Now that my disclaimer is out of the way, WTF is up with "The Big Money"?! They've posted a photo album of cars they claim will be junked in C4C. Both the intro and first slide feature a Volvo 240. Sorry, but our precious bricks get better than 18MPG and aren't eligible for C4C. While Matt DeBord's copy is cute, it's obvious he didn't do his research. They had to pull the BMW 325, diesel Mercedes and Mazda Miata (!) slides after a commenter pointed out they have better fuel economy than the program calls for.
Matt, please visit cars.gov. It's a horrible site, I know, but somewhere beneath the UI you'll find eligibility requirements and a list of vehicles.  Dry the tears from your eyes, stand up and rejoice! Four of the ten cars you've mourned as dead will still be here to drive another day.
1 comment on "The Big Money Doesn't Know Clunkers"
My Black Brick » Archives » How many Bricks have to die for a mistake? says


[…] a listing of all cars traded in for the Cash for Clunkers program. I had admonished the Big Money for claiming the 240 was a Clunker. Turns out they were almost correct. According to Cars.gov, one particular model of one particular […]
Leave a comment