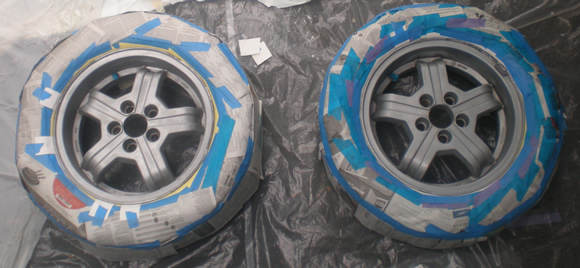 I painted my front rims a couple months ago and they're still looking pretty good. The image above shows them sanded, masked and ready for paint. I document the process after the jump…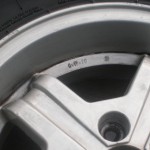 After jacking up the car and removing the wheels I doused them in Simple Green and brushed with hot water, cleaning up most of the brake dust. I gave them a once over with 400 grit paper, then scrubbed and scraped to get the areas of dirt in the crevice where the spoke meets the rim.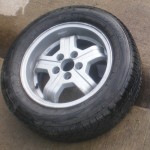 I sanded the curb rash on the outside with a rougher grit paper, then filled it in with an epoxy. I was a little sloppy but it smoothed the edges out for the paint and the final result isn't too bad. I just didn't have the patience to finely sculpt areas I knew I was going to scrape again soon anyway. I let it dry overnight.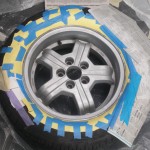 The next day I sanded the epoxy smooth, used a 600 grit paper over everything and rinsed it down. After the rims dried I masked off the wheels. I deflated the tires a little and stuck the edges of index cards all around the circumference. This took a while, as I had to make sure the stuck slightly under the rim all the way around. I used newspaper at the wider diameter and started painting.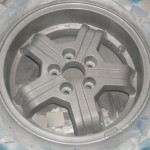 I put down 2 or 3 coats of silver Duplicolor paint and a couple of coats of semi-gloss clear-coat. I made the mistake of painting them laying flat and there was some misting in the paint and clear coat so I didn't get a completely smooth final result. For the rears I'll be placing them upright and if that comes out better I'll re-do the clear coat on the fronts.
They've held up well so far, but I was a little disappointed. Once I got the rims as clean as I could I realized that they weren't in bad shape. What I thought were rusty deposits were only hard-to-reach embedded bits of brake dust. And I think I prefer the OEM look to the paint, as the metallic flecks in the new paint are larger and a bit more glitzy.
The big improvement is the clear coat though. The smoother rim sheds brake dust much better now, so they stay cleaner longer and the dirt is easier to clean off. I'm thinking I may go with a glossy coat next time, as the semi-gloss seems a little dull.


Here's a post on Turbobricks about painting Virgos.
2 comments on "Front Virgos painted"
Z says


Looking good!

My Black Brick » Archives » Which wheel is not like the other? says


[…] been over 2 years since I painted my Virgo 15″ front rims but I never did the rear. The difference between the new paint and the old rim isn't really […]
Leave a comment