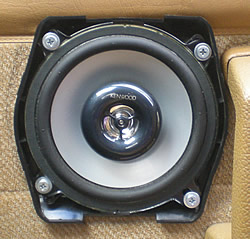 When I first bought the brick I tossed the cardboard speakers and plugged in a cheap set of Kenwoods. They never fit quite right, as the holes in the speaker panel don't align with the holes in the speaker. They were only able to attach to the door panel, as the screws didn't match the holes in the sheet metal. I mounted them with only 2 screws each and had crappy sound out of the crappy deck.
When I got a new deck I went through the torturous process of rewiring all 4 speakers. I pulled the door panels out, sound-proofed with RAAMat and closed-cell foam and installed a wooden frame for the speaker.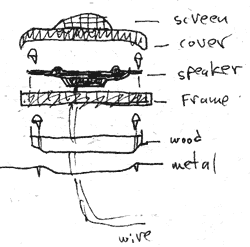 I cut a square of thin wood to size, jigsawed an inner circle and used sheet metal screws to mount it to the inner skin of the door. The screws were long enough to mount it but short enough not to scratch the glass. The door panels fit pretty snug; they're insulated with a thin layer of sound-proofing foam and the wood pushes them out a little more.
Once in place, I drilled the original speaker surround to deal with the speaker mount offset, then used wood screws to mount the speakers to the wood. They're now super tight and the sound-proofing keeps everything from getting lost in the door cavities.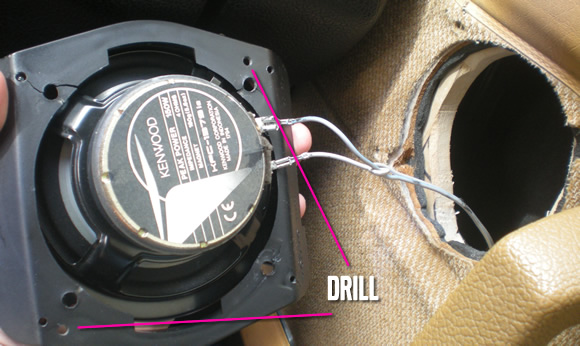 6 comments on "Installing Front Door Speakers"
Steve Owsley says


Awesome! These speaker mounts are from a 740?

DoctorJay says


It's a 240.

Tom Foolry says


Wow, really clever! I never thought to use a wooden frame (although I admit I don't do a whole lot with any kind of audio), so I might have to try this out when I get new speakers. What kind of sound deadener did you get from the RAAMat guys? I'm never good a deciding what to shop for.

Jolvo 245 says


I'm also curious what kind of sound deadener you got from RAAM, and how much sq ft you needed per door… I'm thinking of doing all four, but I'm not sure I can afford a huge roll right now. So maybe 2 doors at a time right now? The rear doors for sure need them. (huge holes everywhere)

Bob Foos says


I admire your solution with the wood. What's nice, too, is the metal frame that Critchfield supplies when you buy their speaker installation kit. It's built to fit the Volvo plastic covers.

DoctorJay says


cool!
Leave a comment