DIY Maintenance Rusted & Busted
Below is a sketch documenting how I checked the over-drive relay after I lost the use of over-drive last winter. It follows a technique I'd seen posted on the Brick Board, probably by Dave Barton. It took a while to troubleshoot but I eventually sucked it up and got the $40 Over-drive Solenoid Bypass kit from IPD and it's worked great since then.
UPDATE: Added photo of the bypass kit install at bottom of this post.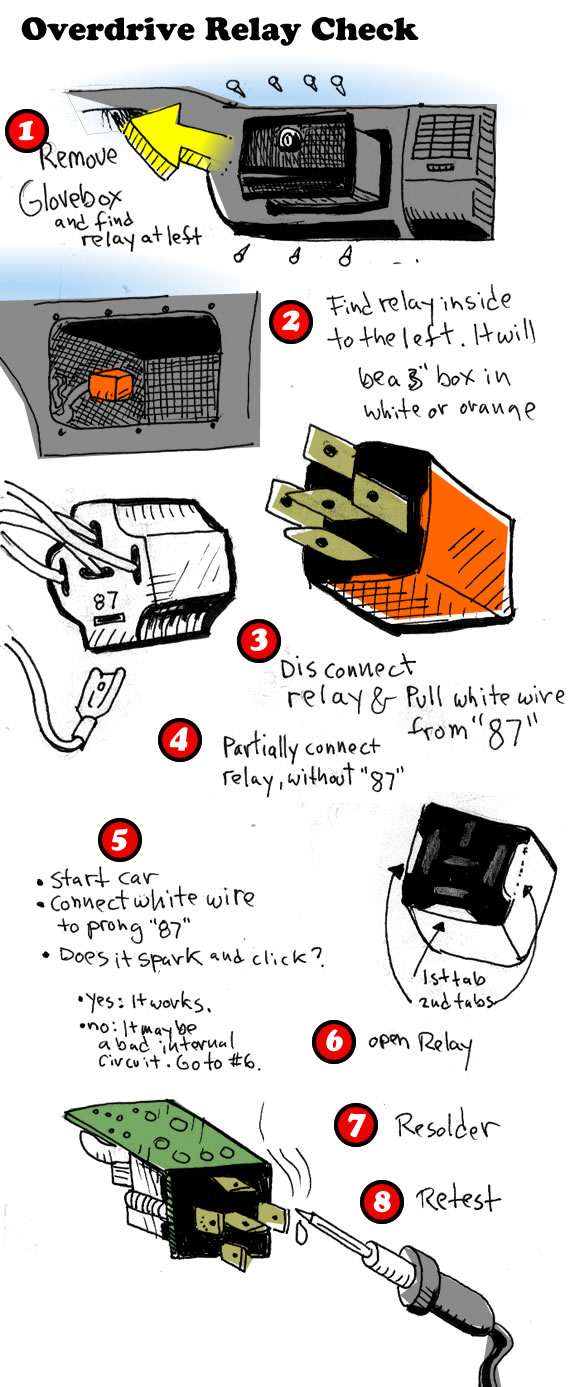 Here's a picture of the install, looking up at the transmission. You can see that the bolts are on the reverse side, so you need a tiny 12mm ratcheting wrench to work it in such a small space. Click image to enlarge.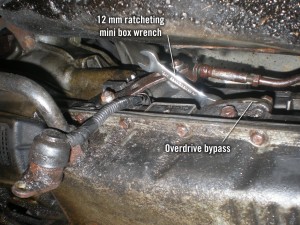 3 comments on "Overdrive Relay Check"
Z says


Nicely illustrated procedure, though I'd simply skip steps 4 and 5 and proceed directly to #6 to solve any current or future problems.

Nick says


Hi,

This illustration was very helpful. I too have been having overdrive woes. I own an 89′ 240 wagon and my fourth gear has been inactive for many months now. Every once in a great while it will suddenly shift into fourth gear past 40 mph, but normally it'll stay locked out of the high gear. I checked the relay and can hear clicking when I press the overdrive button on the shifter, so it must be the solenoid. I want to purchase the solenoid bypass kit, but the PDF instructions seem thin and the photos do no justice. I don't feel confident I can perform the repair. Is there any advice you can offer, given that you've accomplished the repair with the bypass kit?

From one brick owner to another, thank you in advance.

DoctorJay says


I posted an image of the install. It's just 2 bolts, but they're in a cramped spot so you'll need a mini 12mm ratcheting wrench.

I don't even think about the OD anymore so i guess it works great.
Leave a comment