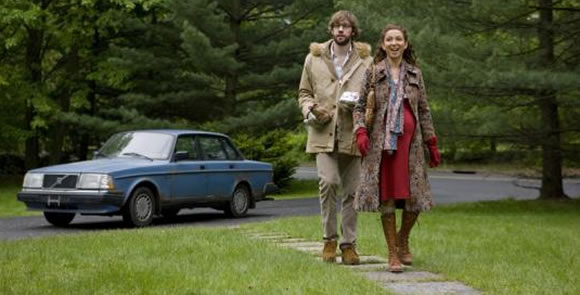 A beat up Volvo 240 seems to be the vehicle-of-choice when a film script calls for low-income, shabby-chic characters to have a car that could feasibly drive long distances. Witness the new film "Away We Go", pictured above. How will they get where they go? In a blue brick, of course.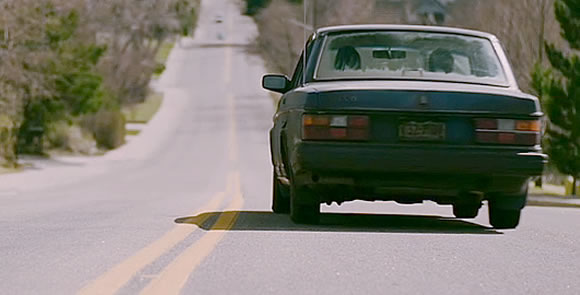 The movie "follows the journey of an expectant couple as they travel the U.S. in search of the perfect place to put down roots and raise their family."
Raise a family? I highly recommend they upgrade to a wagon.
Who has the responsibility for casting cars in movies like this? Is it the set designer? Cinemetographer? Casting director?
It's obvious that the vehicle in this movie has an important role transporting the couple around the US and the film makers decided that for this journey, they needed a beat up 240. It's an older car that has a quirky, hipster feel. Unlike other manufacturers, Volvo made so few stylistic changes over the years of production that it's hard to place the model year. The sedan looks so generic that it becomes almost invisible. It doesn't have the retro look that a 1980s Ford Taurus would; with a few rusted panels it just looks like "old car".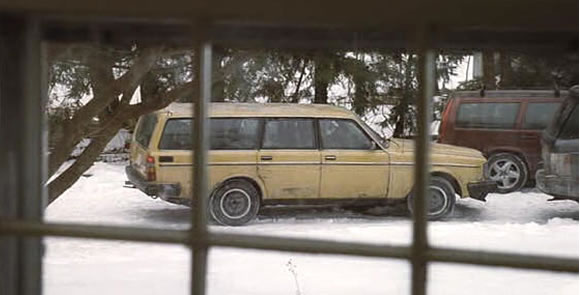 When Rachel McAdams's character, Amy, slides into the driveway for the holidays in the movie "The Family Stone" she's also piloting a rusty 240. If we read between the lines in the photo we surmise that it was handed down to her when the parents bought their new V70. In the video below, Amy pulls up at :20.
Amy is the "NPR supporting" black sheep of the family. We immediately know she's low income from the car she drives. She works as a school teacher and obviously rejects the material rewards the other members of the family have gained from their achievements, as evidenced by the palatial home and slick cars in the driveway. We don't see the car again, but it plays an important role in introducing her character at the beginning of the movie.
But who are we kidding? In the real world, every one of these people would actually be driving a 1991 Honda Accord.
15 comments on "Typecasting the Beater Brick"
Maria says


Pretty good post. I just stumbled upon your blog and wanted to say
that I have really liked browsing your posts. Any way
I'll be subscribing to your blog and I hope you post again soon!

My Black Brick » Archives » 10 Things I Hate About You says


[…] 1999 movie "10 Things I Hate About You" and from the promo it looks like a Volvo 240 is once again used as a prop to symbolize  and extend the personality of one of the main characters. The driver […]

Oly says


What about the Allstate Insurance TV Ad with the Juvenile Alumni going to the "State" Football games.

DoctorJay says


Thanks for the tip!

Jason R. says


These bricksightings are nothing new but what's interesting is that in the past couple of years, we've seen a dramatic increase in the 240 symbolize exactly what you mention. It also might be no coincidence that the resale prices of these old rigs have slowly increased as well.
In NBC's "Friday Night Lights" on of the main characters- Matt Saracen, reconnects with his mother in season two. She drives a white, early 80's 240 DL wagon. We see the car repeatedly throughout season three as well (a very well done show BTW. I highly recommend it).
In "Marlene Hochkiss' Ballroom Dancing and Charm School" John Goodman's character gets released from jail and steals a similar early 80's 240 wagon in silver that winds up in a fatal accident (and it's interesting to see how they destroyed the vehicle- i don't think the type of damage that they portray would actually happen in a 240, but i digress…). Later on in the movie there is a long establishing shot picturing the rear end of a 240 sedan in a parking lot as two characters sit on a curbside out front the dance hall.
There is also a 240 in "Ghostworld"(2001) off the top of my head.
I think it's pretty funny what these cars have come to symbolize. Cool too. If you drove around Austin, Texas, you would see literally dozens of these babies in any one day. Its also interesting to see what regions they proliferate in throughout the country- Portland, Olympia, Seattle, S.F., Austin, VT, MA, CT, ME, RI, NY….(and I'm sure we can add to the list…)

KonstantinMiller says


Hi. I like the way you write. Will you post some more articles?

My Black Brick » Archives » Uma Thurman's Brick in "Motherhood" says


[…] the trailer it looks like we have yet another case of a typecast blue beater brick. Uma Thurman is a mommy blogger (as is my wife) who lives in an […]

Carter Ward says


Uma Thurman was like a thousand times drop dead gorgeous when she was still younger.,;~

Mohammed Hughes says


i seen Uma personally and she is quite a tall lady,.".`

Amber Phillips says


Kill Bill is the best known work of Uma Thurman, i really like this tall girl`'.

Arthritis Treatments says


i love tall women like Uma Thurman, they really kick ass`*;

Polyethylene : says


i am a die hard fan of Kill Bill and at the same time a die hard fan of Uma Thurman too;'~

why do leaves change color says


My best friend often talked about this webpage yet somehow this is definitely the very first page I have taken a look at to this point. I'm pretty satisfied and right away a reader.

Culbert says


I am very pleased with all the posts on your website. I recieve so many thoughts to help me.

My Black Brick » Archives » Farah Goes Bang says


[…] going to make a movie about a road trip then you have to cast a Volvo 240 in the lead role. Once again we have an indie film featuring a group of liberal 20 year olds riding in a classic […]
Leave a comment