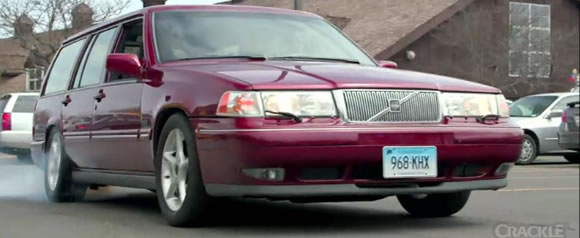 Jerry Seinfeld takes David Letterman's Paul Newman Volvo 960 for a drive on his show Comedians in Cars Getting Coffee. Seinfeld tears up a supermarket parking lot, spraying soccer balls and popcorn across the asphalt.
In 1997 Newman commissioned Converse Engineering to shove a Ford 5.0 engine into a brand new Volvo 960 wagon. He then called Letterman and asked if he wanted one.
"Dave, I'm thinking of getting me a Volvo station wagon, and I'm gonna stuff a Ford 302 V8 engine into it. Do you want one?"
Letterman said yes, then Newman called back 2 weeks later:
"Dave, the cars are ready. We got two, on for me, one for you. I've got to ask you a question. Do you want a puffer?"

I'm thinking, well, is that like a special inflatable seat? And I said, "Well Paul, are you getting a puffer on yours?"

And Paul says, "Yeah, yeah, I'm getting a puffer on mine. It's a supercharger. This thing will turn about 400 horsepower, so if you pop the clutch you're gonna tear up the rear end. I tell ya, from 20 to a hundred you can chew anybody's ass."
Letterman seems to regard the car as more of a burden than a pleasure. Throughout the video he complains about it breaking down. He'd prefer to drive his Nissan Leaf.
Leave a comment