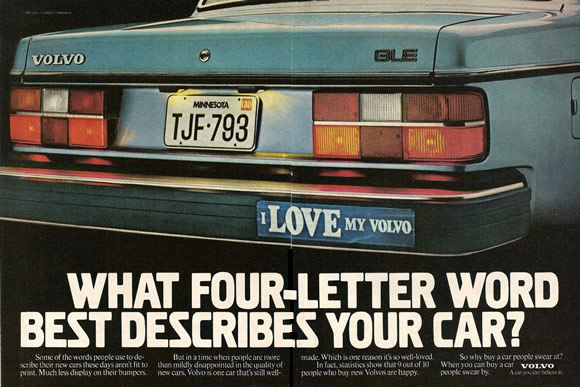 A reader in Nashville wrote an epic post about the Volvo 240 and the role it's had in his life. Here's a choice quote:
What exactly does the Volvo 240 project, though? Does it mean I had middle class, safety conscious parents with liberal arts degrees? That I'm a vegan with a beard and tattoos and live in Brooklyn? Maybe it just means I'm a cheap bastard and like old, slow, heavy tank-like bricks that are built to last?
2 comments on "Slow, Heavy, Practical, Timeless"
hard barned says


Thanks Jay!
Very cool of you to send some readers my way. Any new projects happening with your brick? I'm thinking about the performance camshaft for non turbos and the performance non-turbo exhaust (both from IPD) for about a 25 or 30 horsepower boost…

DoctorJay says


No projects right now, just coasting along. I've got new Bilstein Touring Class shocks on the back but need to get someone to put the struts on. Just changed the brake pads and front wheel bearings. Otherwise I'm just getting on.
Leave a comment