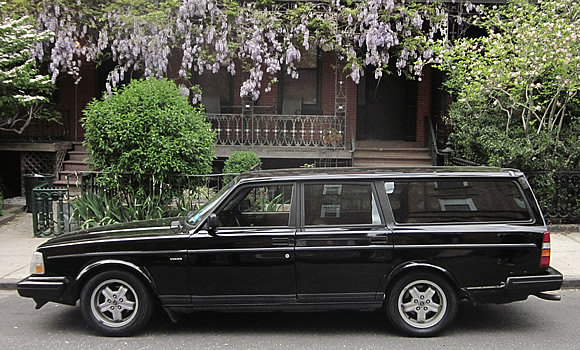 Turns out one of the oil seals I installed was busted or misaligned but now we're back in shape, thanks to some professional help. While it was down in VA we had the windows tinted, a scratch repaired and nice paint detailing. It's glossy like a new bowling ball and slick as an ice cube. We'll be driving cool this summer, that's for sure.
5 comments on "Back on the Road"
Seth says


I'm jealous! My wagon could use some body work, no dents but some marks from some accidental snowblower rubbing this winter. I was planning on getting my windows done also, how much would I expect to spend and how long did it take for you?

DoctorJay says


they charged $300 for the 5 windows. Took them a couple days, then now opening the windows for at least 4 days.

I did a 30% light transmission. If i did it again I'd probably go with 20%, but I prefered to err on the lighter end than darker. I don't think the rear windows look that great with super dark tint. It would be different if the windows were flush with the body and it looked smooth, like a panel truck. But the factory look, without tint, is pretty cool, and having a lighter tint keeps the station wagon character without looking like a wanna-be blacked out SUV.

Z says


Never been a big fan of tinting myself, but the end result looks good. What did the detail job runyou, or was that rolled into the window work?

DoctorJay says


It was $200. I also had a big scrap off the back taken care of for another $200. A little steep, but the car is slick as glass and looks like it has a fresh coat of paint.

AHB says


This picture breaks my heart in remembrance of my first Volvo. A black 1983 Volvo Turbo. Christ those turbo wheels look good.
Leave a comment