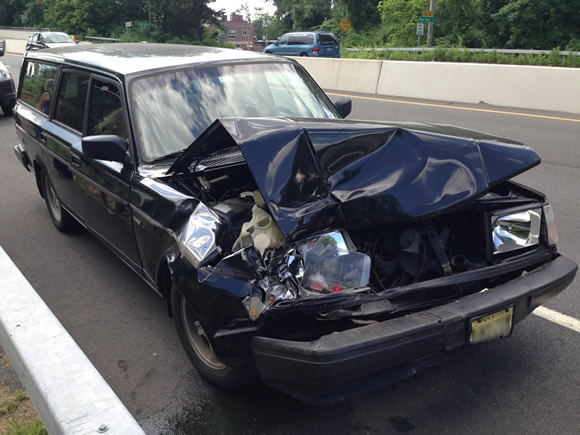 This looks like the end of an era for me. I got into an accident on a roadway in New York and smashed the front of my car in. It was a short stop at a traffic light and luckily everyone was fine. My daughter had a little scratch on her neck from her seat belt but other than that our only trauma was psychological. The compact SUV in front of me suffered a busted bumper and some damage to the rear hatch door.
The radiator is shoved into the engine and coolant was spilled all over the road. In light of that fact I'm not going to bother trying to save it. If it were just body damage it would be different but considering the situation it's not worth it to me getting it fixed. I have no place to store and work on it so tomorrow I'm heading back to the garage, pulling out some valuables and saying good bye.
This has been a fun ride and I've enjoyed keeping this blog. This car was been a mixed blessing; I've learned a lot from working on it but always felt there was something else I needed to fix. It rode pretty well and maintenance was cheap. There's been a great community of fellow enthusiasts and I've always loved checking out the Brick Board to figure out how to do things myself, with the help of a passionate group of shade-tree mechanics.
I bought the car when my second daughter was born and we've enjoyed some great trips as they were growing up over the past 9 years. We had fun seeing how much stuff we could fit into the trunk on trips camping and to the beach. They treated it like another member of the family and I think the worst pain for them is knowing that the car will be gone.
As we were talking about what's next my daughter asked me if, when I was a kid, I ever thought that objects were alive like people. I told her that I had, that I remember thinking that my stuffed animals had feelings. "That's how I feel about the car," she said. "It's like it even has a face, and it's sad to say goodbye." Yes, yes it is.