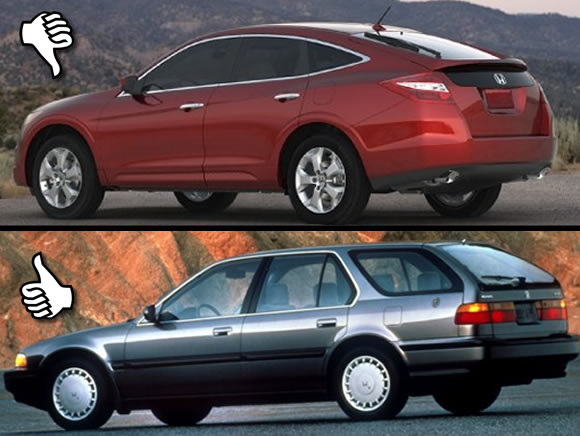 Honda is developing the Accord "Crosstour" pictured above, and decided to post some teaser images onto Facebook. Mistake. The page got mobbed by station wagon lovers, and others who are tired of rounded-rear "Cross" badged vehicles. Comments were scathing, and many posted images of what they wished it had been, like the 80's wagon above, or what they thought it was trying to be, like the Pontiac Aztek.  It was enough to make Honda defend itself for not offering a real wagon:
It's not the European wagon: We've seen a lot of comments about the desire for a wagon, but this is neither a wagon nor designed for wagon buyers. We think the Euro wagon is a cool vehicle, too, and we appreciate the feedback… but a version of that wasn't our intention here. That's another segment worthy of our consideration, but the Accord Crosstour, built on the larger, Accord platform, is meant to give you the best of two worlds – the versatility of an SUV with the sportiness of a car.
With a sloped rear like that, you'll have a hard time calling it versatile. Can I fit all my families bikes in there without folding down the rear seat?
After the jump, a collection of choice words from FB users.