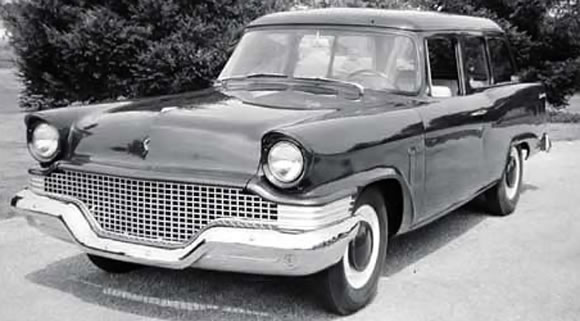 I had never heard of the stereotype of Scotsmen being frugal and cheap until I saw this post on Sociological Images. It was well known enough in the 1950s, however, that Studebaker made a line of vehicles under the "Scotsman" name. This included the station wagon pictured above.
According to info on Wikipedia, the Scotsman was Studebaker's attempt to position itself as the maker of inexpensive, bare-bones cars, in contrast to the Big Three automakers miles of chrome, fins and gimmicks. Base price for a 2 door was the patriotic $1776, but it could be had for less than that if the buyer opted for painted bumpers and wheels instead of chrome.
The interior had no carpeting, just rubber mats on top of steel. Gray vinyl seats and painted cardboard trim (!) were the only interior options and rear passengers were unable to open their windows. Accessories were limited, and dealers were instructed to steer buyers looking for frills to upgrade to the Champion line.
Studebaker managed to deliver a reported 30 MPG from the inline six, making it one of the most economical cars of its size. With 0-60 times of around 20 seconds, it was also one of the slowest.