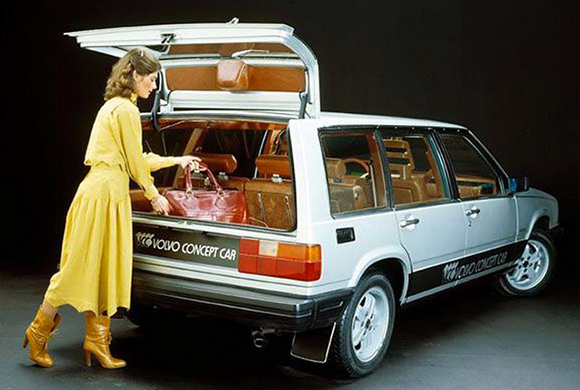 Apparently a hatch rear window was an idea for Volvos back in 1980. More images here.
This Volvo "is aimed at the most demanding of customers: the independent woman in the premium segment." So states the narrator for "YCC: Your Concept Car", a look at creating an automobile specifically for women. Not to be confused with Rush "YYZ", or F.U.B.U. "For Us By Us", the YCC has such innovations as paint that is "just like a non-stick frying pan" and no easy access to the engine compartment. I assume this means that an independent woman in the "premium segment" couldn't be bothered to know what's going on with the car.
Over the soothing tones of new-age electronic jazz we learn it's a "tough car" but not "brutal". According to one of the women on the design team:
"You're not buying a technical product; you're buying by emotions."
At :53 is my favorite part. A zoned out woman with a sweater casually draped around her shoulders wakes to tell us what our first impression of the car will be: "A feeling of, uh, grace… and, uh, space." But she's totally grace-less, speaking slowly and staring bug-eyed into the void.
BONUS: Trip out to the ambient music on this YCC promo video. Turn up the speakers for 9 minutes of hot buzz.