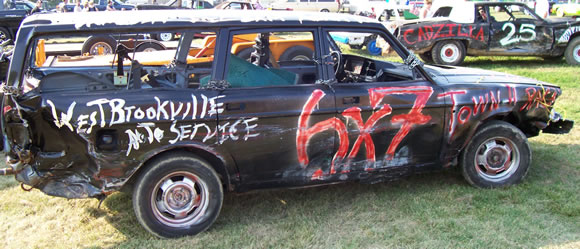 Last summer I spotted this brick at the NJ state fairgrounds and met the owner, Joe. He was preparing for the evenings demolition derby. Turns out he's at it again this year with a 240 sedan. He'll be competing at the Sussex Co. Fairgrounds on Sunday, Aug 7 and Monday, Aug 8th, both nights from 7:30-9, but he'll probably be around on Sunday getting ready. Good luck Joe!
Here's his rundown of the event last year, plus a gallery of pics:
This 240 wagon raced 3 times. 1st time disqualifed 4th place for an oil fire in the compact class, 2nd time disqualifed 4th place for a slight gas leak in the compact class and on the final race i raced the car among the six cylinder class of cars (intepids, luminas, bonnevilles, montecarlos, etc) and destroyed them getting a second place only due to an electrical short.