A dramatic advertisement for a used 1993 Volvo 240 wagon. Sweet, it has plastic gills with triple backdraft.
BONUS: The Swedish version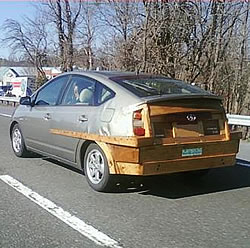 Todays NY Times has an article about the "trend" of people holding on to their cars and appliances longer than usual. They report average length of car ownership is at a record 52 months, or just over 4 years.
It's funny how people in the US have developed a mindset where it's considered normal to dispose of things out of boredom, rather than lack of function. The Times interviews a Jaguar driver who had the habit of buying a new car every 2 years. Economic adjustments now have him driving a 1999 Jag into the ground. He says "it's a question of shifting values" and that he reassesed the need to constantly have new things.
I think it's sad that the norm is to toss things out that are still functional. Keeping and repairing is seen as an aberration. According to the Times, consumers are "yearning to favor brands, fashion and novelty over practicality." For many companies, obsolescence and disposability is part of the business model, at the expense of continuity and longevity.
Pic via There, I Fixed It
Dan Johnston has a funny post about the 240 being a good first car for new drivers. He posts the transcript of a conversation between NPR's laugh-factory Click and Clack speaking to a teen who hates driving her 240 wagon:
TOM: Wait. I've got it. Emily, next time you're in the car with your dad, look toward the back and say, "Those back seats fold down, right, Dad?" And when your dad says: "Sure they do. Why?" You say, "Well, with the seats folded down, I bet there's plenty of room for two people to lie down back there!" He'll have you in a 1992 Volvo sedan by Monday, Emily!