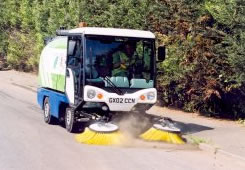 I got another parking ticket from the city of Hoboken this week. It's a bi-monthly occurance for me, as I forget the street cleaning rules every so often and wind up covering a dirty patch of asphalt on an otherwise sparkling road.
Street parking is a huge issue in Hoboken, NJ, as it is in many cities around the world. When people live in homes that are stacked atop each other there just isn't enough square feet of street to accommodate their steel and rubber vehicles. Garages spots here go for almost $300… if you can find them. Waiting lists are years long and if you get into the notorious Robotic Parking garage you may never get your car back or it may be signifigantly damaged.
From the NY Times:
The motive is unclear. The weapon is a mystery. But what is certain is that what is being called the country's first fully automated parking garage has already claimed two victims, most recently on Oct. 16, when the $12 million garage sent a Jeep Wrangler plummeting four stories to its demise… In February 2004, a Cadillac DeVille fell and crashed in the same garage here at 916 Garden Street.
Some people in the city take liberties with the no parking zones near intersections, but this makes the crosswalks incredibly dangerous, as you have to walk into the road and can barely see oncoming traffic. Pushing your kids across the street in a stroller becomes next to impossible when a hulking SUV blocks your vision. The Hoboken Parking Authority was recently called out on NPRs "This American Life" for inconsistent parking enforcement. Host Ira Glass interviews "Kathy", a vigilante parking enforcer who confronts a city employee who parks in a crosswalk. I wonder if it was the employee who wrote my ticket.
2 comments on "Parking In Hoboken"
My Black Brick » Archives » The Last Available Parking Spot says


[…] got yet another parking ticket in Hoboken. I parked in front of the house and thought I'd hear the street […]

My Black Brick » Archives » Paying for Public Street Parking says


[…] sounds so creepy. Street parking in Hoboken, where I live, is pretty tough. It's rare that you see an open parking space. Most of the time you have to catch someone […]
Leave a comment