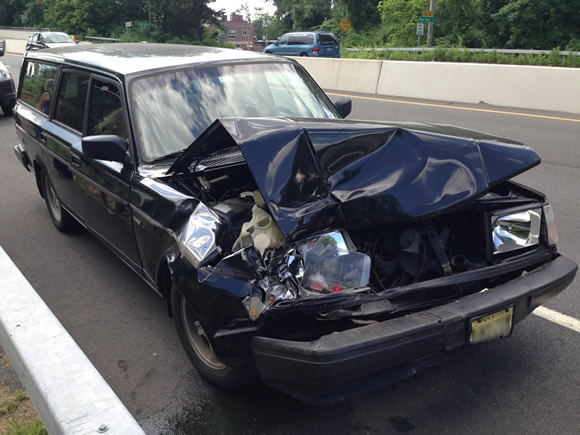 This looks like the end of an era for me. I got into an accident on a roadway in New York and smashed the front of my car in. It was a short stop at a traffic light and luckily everyone was fine. My daughter had a little scratch on her neck from her seat belt but other than that our only trauma was psychological. The compact SUV in front of me suffered a busted bumper and some damage to the rear hatch door.
The radiator is shoved into the engine and coolant was spilled all over the road. In light of that fact I'm not going to bother trying to save it. If it were just body damage it would be different but considering the situation it's not worth it to me getting it fixed. I have no place to store and work on it so tomorrow I'm heading back to the garage, pulling out some valuables and saying good bye.
This has been a fun ride and I've enjoyed keeping this blog. This car was been a mixed blessing; I've learned a lot from working on it but always felt there was something else I needed to fix. It rode pretty well and maintenance was cheap. There's been a great community of fellow enthusiasts and I've always loved checking out the Brick Board to figure out how to do things myself, with the help of a passionate group of shade-tree mechanics.
I bought the car when my second daughter was born and we've enjoyed some great trips as they were growing up over the past 9 years. We had fun seeing how much stuff we could fit into the trunk on trips camping and to the beach. They treated it like another member of the family and I think the worst pain for them is knowing that the car will be gone.
As we were talking about what's next my daughter asked me if, when I was a kid, I ever thought that objects were alive like people. I told her that I had, that I remember thinking that my stuffed animals had feelings. "That's how I feel about the car," she said. "It's like it even has a face, and it's sad to say goodbye." Yes, yes it is.
8 comments on "R.I.P. My Black Brick"
Brian Driggs says


Shortly after buying my own brick done years ago (long since died and sold to a fellow Craigslist optimist), I discovered your blog. I've always enjoyed your tales, and would like to express my condolences on your loss.

These are special machines, renowned for their simplicity and geniality. They bring us together. I'm glad to hear you and your daughter walked away – as Volvo owners tend to do – but I wanted to echo your sentiment.

Whatever the future holds for you, automotively speaking, I hope it is as meaningful and rewarding as your black brick has been.

All the best.

DoctorJay says


Thanks so much Brian.

HARDBARNED says


Oh no, Jay! RIP Black Brick. I hate to hear this but am glad to know that the old tank did its job well and protected your family. That's just another reason we love these old 240s. What are the chances that you'll start looking for another one and keep up the blog? I get an email from eBay every time somebody posts a 240, as I'm always interested in what's still out there and what it's going for. I can't help myself. Deals can be had on old bricks. I hope you'll think about it!

DoctorJay says


Thanks for the good word. At this point I don't think I'll be in the market for another car anytime soon. When I am I'll be looking for another wagon so it'll probably be an 850/V70.

Bob Foos says


Sorry to read about your accident, Jay. I have a hard time not thinking of inanimate objects as loyal (hopefully) friends. I came to you blog today to offer help in marketing your turtle/red brick items at the national Volvo convention my VCOA chapter is hosting. It will be in Eureka Springs, Ark. Oct. 31-Nov. 2.

Seth says


It's a sad thing to see, but in the grand life of a volvo, they are made for this situation. You and your family walked away, and the car did what it was designed to do: just that. I do enjoy this blog, it's nice to see someone taking pride in something the same way I do with my wagon. These cars can be made fun of by everyone, but they're cheap, strong, easy to fix and very enjoyable to drive. (at safe speeds too!) I've had people compliment how comfortable the seats are, and I've done my fair share of sleeping in mine when I would commute to school and sleep before class.

Anyway, it's a shame to lose another 240, but at least it was lost while doing it's job right. I am never afraid of an accident while in mine, but then again it keeps me from being stupid on the road!

Jennifer says


My children couldn't understand my attachment to Goldilox II, aka Dog Wagon. When her engine blew a rod (thank you teenage daughter)and I sold her, I cried for days. She was my 4th Volvo, the best one…saw me through my brother's death, a divorce, a move, and finally being an empty nester. Cheers to the Black Brick…off to the Volvo Land of Gods. And, cheers to hopefully finding a replacement that will serve you as well.

Tony says


Condolences. Thanks for keeping the site!
Leave a comment