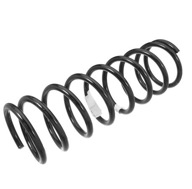 The rear springs of the brick sag so bad that it bounces like a Slinky when I hit a speed bump. At 145k it's not a surprise, especially since I have no idea what the previous owner used to put in the back. Getting new KYB shocks didn't help much, so I figure they need to be replaced. Now I need to decide how crazy to go.
Original springs would be fine, at $90-100 for the rear pair, and would probably boost the sagging rear by a 1/2″ or so. Or I could do the sport springs from iPD for $250 for all 4 wheels. This would lower the car by an inch or more. That'd make the handling better but I'm not sure I'd want that considering the potholes in my neighborhood. It also raises the complication of changing the front springs, which would be a PITA.
But it looks pretty cool, as can be seen here and here.
Leave a comment