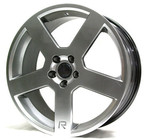 Ipd premiered a new rim for RWD Volvos today and it looks pretty sweet. It's a replica of the rims used on the 850/v70 R-series. At 17″, it's pretty bad ass. They say it'll fit the 200 series. I just don't know about the little "R" symbol, considering my brick is a total slug.
3 comments on "IPd's Pegasus Replica Rims"
Barnesi says


Did you end up getting them? From where and how much? i drive a 244 GL fucken
love it..

DoctorJay says


Nah, lack of funds. Figured I'd go with iPD lowering springs and anti-sways first.

You can get them at iPd, and they now make them in matte black too.

http://www.ipdusa.com/Volvo-200/Wheels-&-Lugnuts/Pegasus-Replica-Wheels/p-69-467-4091/

David says


Hm… I'm not sure how great these would look on a brick. I have Draco 15″ rims from a 740T and just spent quite a bit having them straightened and refinished, and they look like they belong on the car. Also running Yokohama Avid TRZ rubber, great all-season tire even in the snow.
Leave a comment