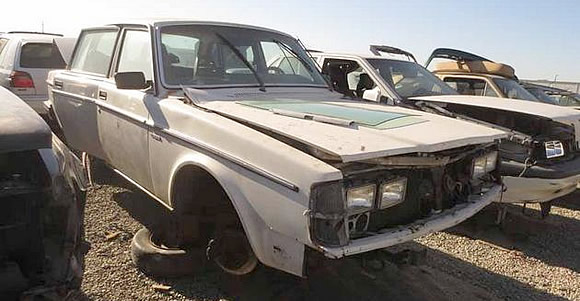 I've been making a semi annual trek to a wrecking yard pick-n-pull near Quantico Virginia ever since I got my car, with occasional success. This year, however, there was limited rewards for my travels. Actually, there were no rewards. For the first time there were no 200 series Volvos to be found in the European division of their automotive graveyard. There were a couple S70s and one 940, but everything else was of German origin: Mercedes, BMW, Audi and VW.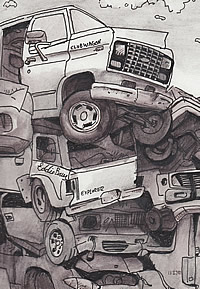 So I was amused to see this post on Auto Week describing the large numbers of 240s limping through San Fransisco junk yards. I suppose there were just more of these cars purchased in the Bay area than around the DC Beltway. Or perhaps they just lasted longer out in California. Either way, I wish I could have been picking parts out of all those California bricks during Thanksgiving instead of standing in the mud in Virginia looking at an empty, rusted landscape.
BONUS: Here's a picture I drew while visiting the scrap yard a few years back.
Leave a comment