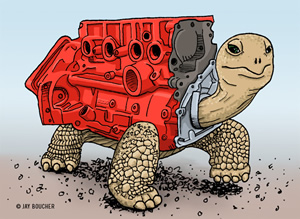 I'm excited to announce that I'll be posting how-tos and Volvo musings on the FCP Euro blog. I've been buying parts from FCP since I bought my brick in 2006 and am grateful for the chance to share bits of automotive wisdom and misinformation! I plan to post there once a week and will be creating illustrations and diagrams to accompany the text.
For my first post I wrote a general overview of Volvo redblocks and their reputation for slow reliability, "The Volvo Redblock: Aging Tortoise of the Automotive World". For the illustration I rendered the B230 engine block as a steady, reliable tortoise.
3 comments on "Now Posting on FCP Euro"
Jan says


We have just purchased our 4th 240 DL 1993 Volvo. threee are 1993 and one 1990. Our 1983 sedan had over 500 K miles our 93 wagon over 500k now and other two are NEW for us…under 100K and under 200K ..Question? Our engines are BLACK not red as I read at the site. How do I know if we have the REd Block? Volvo for LIFE and we love them. thanks

Jan says


We own three 1993 volvo's and the engine is black…is it a redbrick anyway?

DoctorJay says


Hmmm. To tell the truth, my engine block is black too… because it's covered with sludge! If you look from underneath though it should be red. From the top the engine compartment is mostly dominated visually by the intake manifold and cam shaft.
Leave a comment